Basic Info
Model No.: Lithium Fluorocarbon Battery Of BR18650
Product Description
High temperature resistance Lithium Fluorocarbon Battery Of BR18650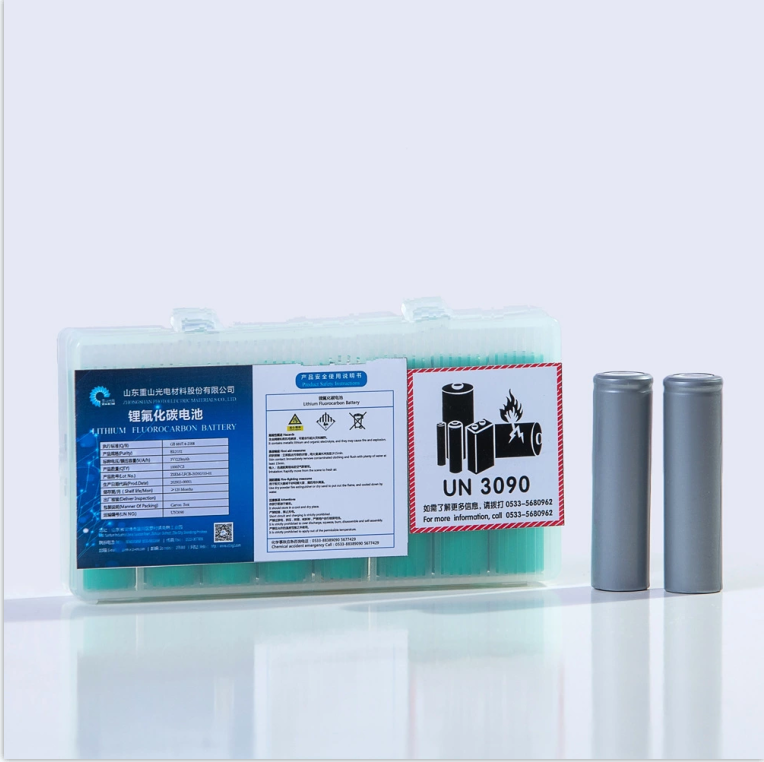 Product Introduction
The cylindrical lithium carbon fluoride batteries independently developed and produced by DADNCELL have models such as BR18650, BR14250, and BR14500.
Lithium fluorocarbon battery BR18650/BR14250/BR14500 has a high capacity (the capacity of 18650 model is 5Ah), wide operating temperature (-40 ~ +125℃), long shelf life (10 years, self-discharge ≤0.5%/year) , Exellent safety performance (through acupuncture test). Therefore, it is widely used as equipment batteries in extreme environments, aerospace, conservation animal tracking, toy products, power tools, portable energy, emergency equipment, and backup power supplies.
According to customer needs, parallel series battery packs can be made.
The performance of the lithium fluorocarbon cylindrical battery is the same as that of the lithium fluorocarbon soft pack battery, but the packaging is different.
Product parameter
Type

Nominal Voltage(V)

Nominal current(mA)

Nominal

Capacity(mAh)

Maxinum continuous current(mA)

Maximum size(mm)

Working Temperature

(℃)

Weight

(g)

BR14250

3

10

1200

500

14.5*25.5

-40-+80

7

BR14500

3

10

2500

1000

14.5*50.5

-40-+80

15

BR17490

3

10

3500

1000

17.5*49.5

-40-+80

20

BR18500

3

20

4000

2000

18.5*50.5

-40-+80

23

BR18650

3

20

5000

2000

18.5*65.5

-40-+80

28

BR21700

3

30

6500

3000

21.5*70.5

-40-+80

38

BR26500

3

30

7500

3000

26.5*50.5

-40-+80

44

BR32590

3

100

12000

4000

32.5*59.5

-40-+80

68
Under the condition of 25℃,2V recommend cut off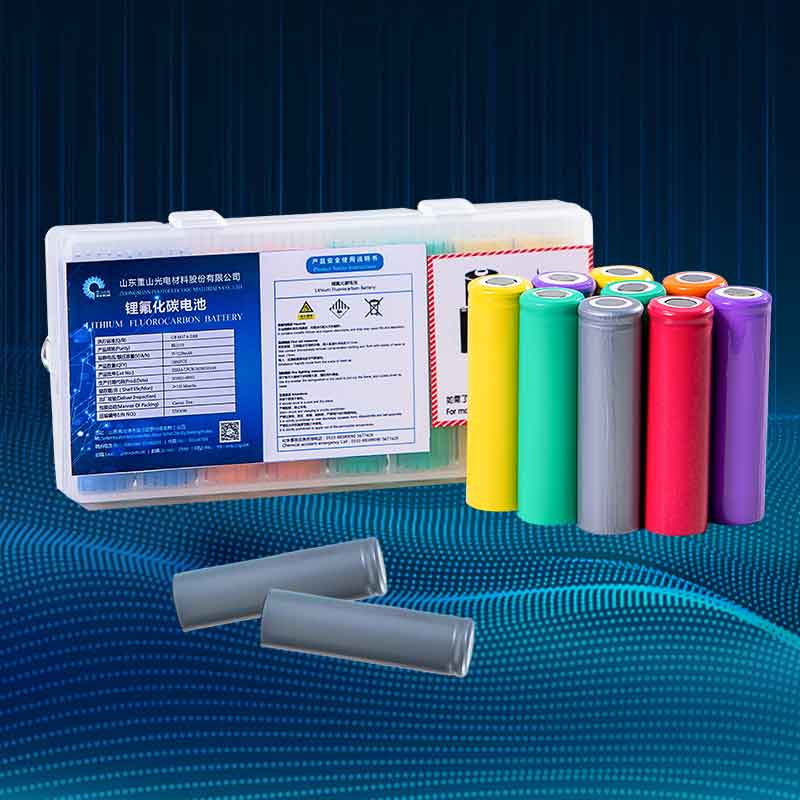 Product advantages
1. Excellent application performance
Carbon fluoride batteries have a large specific capacity and high energy density, making them easy to miniaturize and lighten.
2. Super high-temperature resistance
The fluorocarbon material itself has good thermal stability. It will not decompose at high temperatures (≤600℃) and will not crystallize at low temperatures. Therefore, the capacity retention rate of lithium fluorocarbon battery at high temperature is good, and the improved battery can reach the -40 ~+125℃ working range.
3. Excellent discharge performance
The working voltage can reach more than 3V. At the same time, because the fluorocarbon is converted into lithium fluoride and conductive carbon when the battery is working, the utilization rate is almost 100%, the discharge platform is stable, and the working voltage can be stabilized until the end of the discharge.
4. Good storage performance
The self-discharge rate of carbon fluoride batteries is very low, less than 1%, whether in use or under normal storage, and the storage life can reach more than 10 years.
5. Superior safety performance
The battery has excellent chemical stability and physical stability. Experiments have proved that it is still very safe in the case of short-circuit, extrusion, collision, over-discharge, high temperature, or other misuses.
6. Green and environmental protection
No heavy metals are involved in the production.
Transport
1.During transportation, the battery should be protected from sunlight, fire, water immersion, and corrosive substances.
2.Shock and vibration during transportation and loading and unloading should be limited to a minimum.
3.The stacking height of paper packaging boxes shall not exceed 1.5 meters.
4.Batteries should be kept away from the engine during long-distance transportation if they are transported by ship; in summer, they should not be left in an unventilated environment for a long time.
Precautions
1.Lithium Fluorocarbon battery is not rechargeable. If the battery is charged, there may be a danger of leakage, fire, or explosion.
2.Do not heat the battery or throw it into the fire.
3.Do not over-discharge the battery, which may cause battery leakage and damage electrical appliances.
4.Do not use metal conductors to short-circuit the positive and negative poles of the battery.
5.Be careful not to install the positive and negative poles of the battery reversely when installing the device.
6.Do not disassemble the battery.
7.Do not solder the battery directly with an electric soldering iron.
8.Do not use batteries that are severely scratched or deformed.
9.Do not use batteries that are severely scratched or deformed.
10.Do not drop the battery on the ground (or wall).
11.New and old batteries, batteries of different models or brands, cannot be used at the same time. If you replace the battery, please make sure to use the same
One brand and all replacements.
12.When connecting batteries in series and (or) in parallel, circuit protection measures must be taken for each battery to ensure that each battery is not charged or forced to discharge.
Storage
1.The battery should be stored in an environment of 10℃~25℃ and 45%~75% humidity.
2.When storing the battery, keep it away from heat sources, nor place it in direct sunlight. Keep it clean, cool, dry, and ventilated.
Affected by the climate.
3.The stacking height of batteries depends on the packaging strength. Generally, the stacking height of paper packaging boxes should not exceed 1.5 meters, and wooden boxes should not be stacked.
More than 3 meters.
4.Batteries are stored and displayed in the original packaging. After removing the packaging, the batteries are stacked in disorder, which may cause short circuits and damage to the batteries.
statement
If you have any questions or disagreements about this technical specification, please contact Shandong Zhongshan Optoelectronic Materials Co., Ltd. -Shandong Zhongshan Optoelectronic Materials Co., Ltd. reserves the right to change the specifications. -Any other terms not included in this product specification shall be determined by mutual agreement.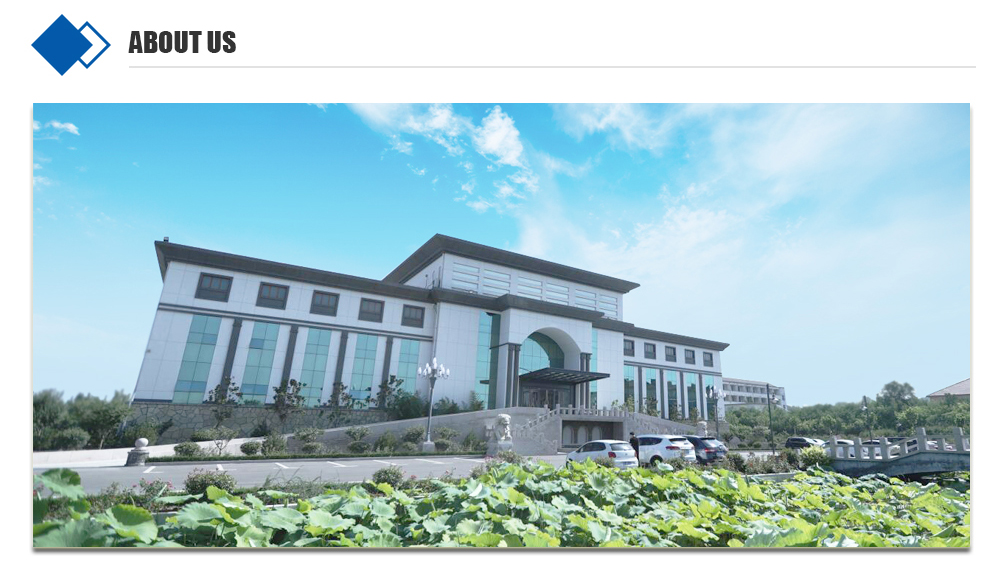 Shandong Zhongshan Electronic Materials Co., Ltd. is a national high-tech enterprise integrating R&D, pilot testing and industrialization, with a total investment of 1.3 billion yuan.The company's lithium carbon fluoride battery project is listed as a major construction project in Shandong Province in 2020. It has innovatively developed high specific energy lithium carbon fluoride batteries and their key materials, and is the first to achieve large-scale production of carbon fluoride cathode materials in China. Produce. The main products are lithium fluorinated carbon (BR) batteries, special functional fluorocarbon materials (fluorinated graphite, fluorinated graphene series materials); graphite and graphene derived materials, fluorine-containing series electronic materials; boron-11 series materials used in the process , Boron-10 neutron absorbing materials and other stable isotope materials. Products are widely used in strategic emerging industries such as ultra-large-scale integrated circuit chips, new energy batteries, new semiconductor devices, nuclear power safety, lubricants (grease), anti-corrosion and anti-fouling coatings, and biomedicine.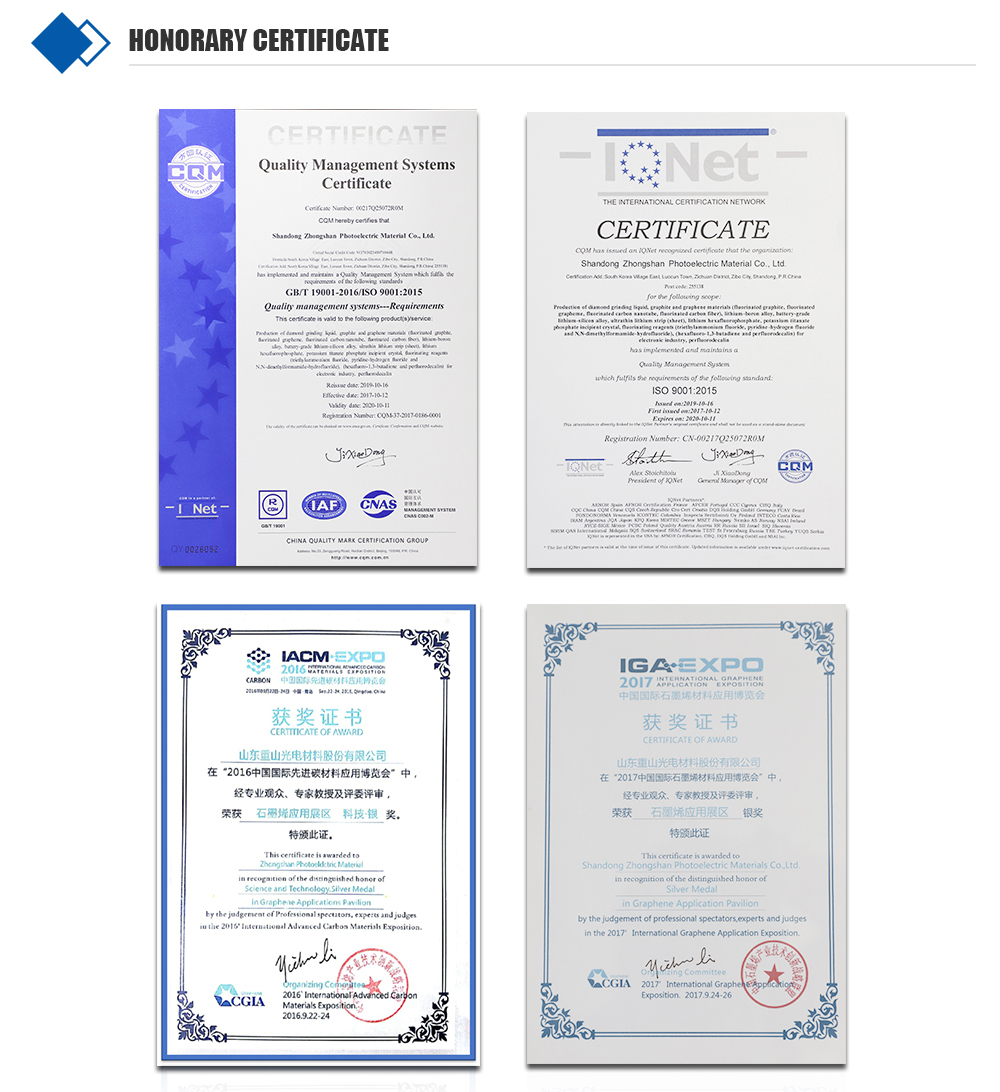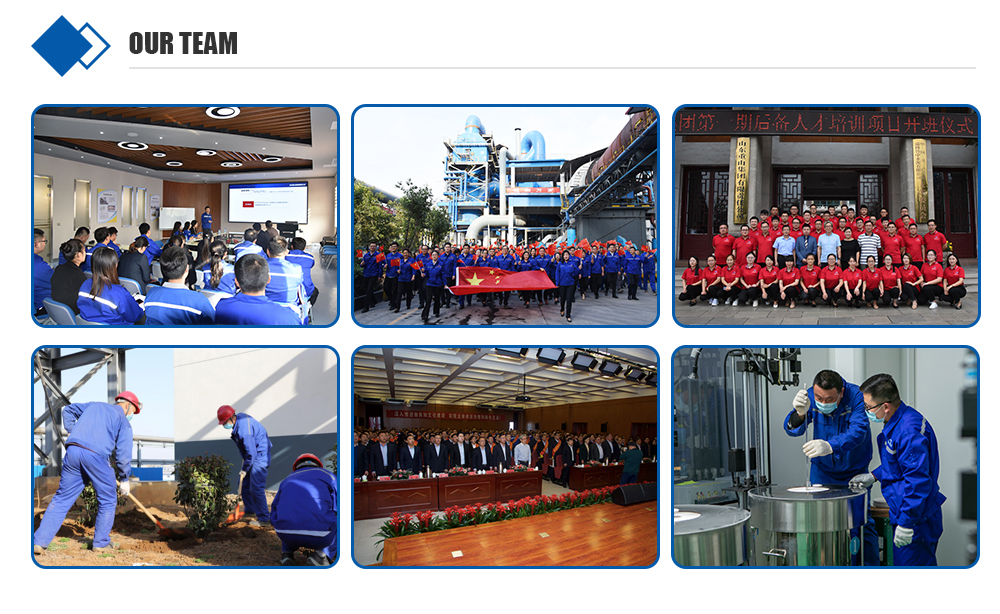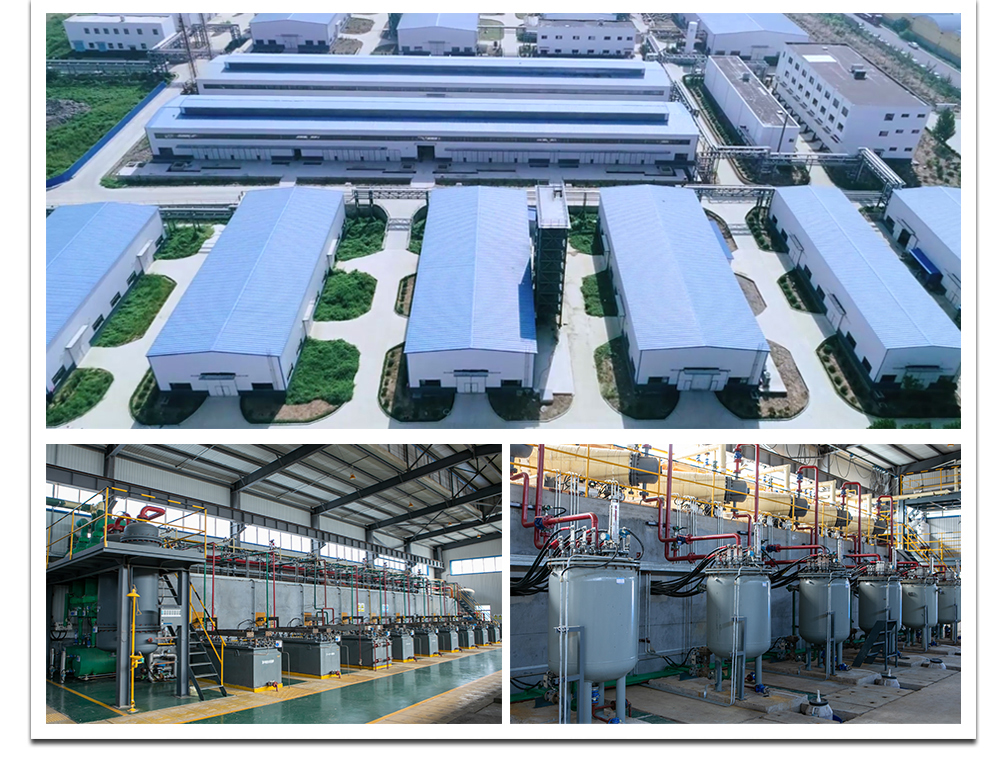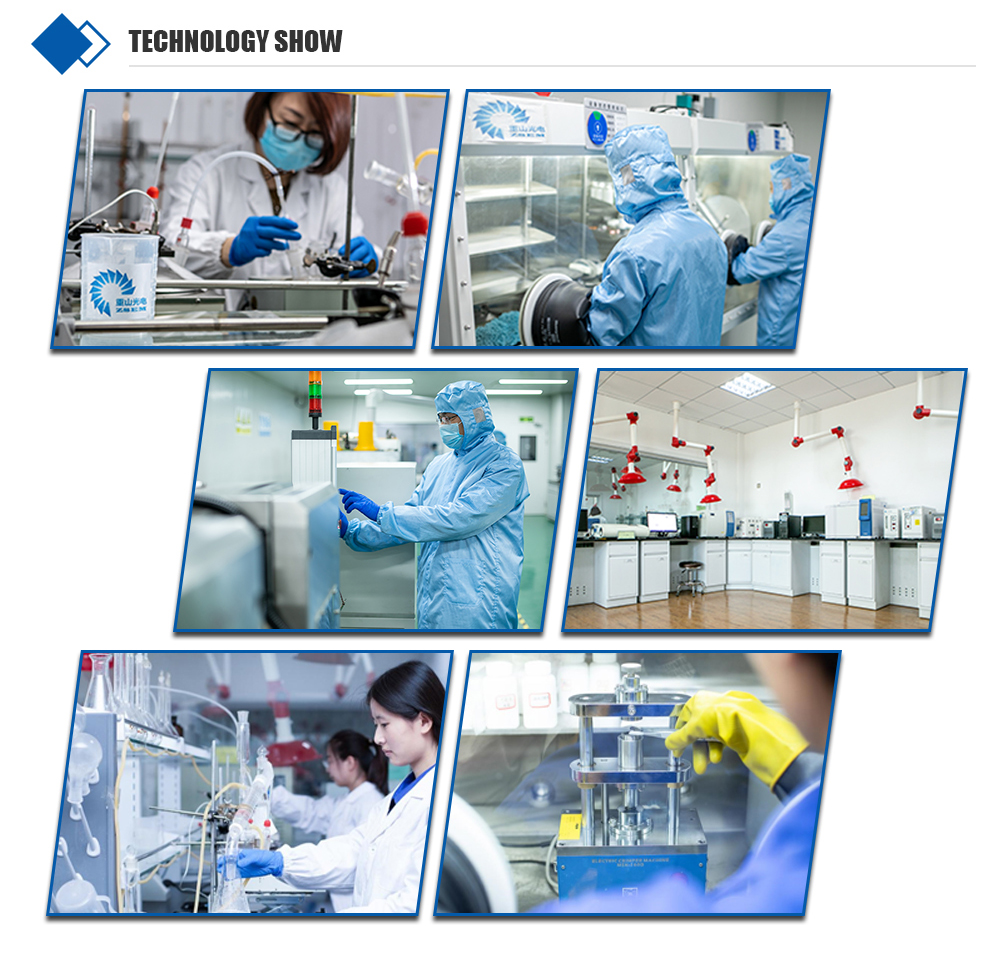 Shandong Huachuang Times Optoelectronics Technology Co., Ltd.
Huachuang Times is an advanced
Battery
technology company in China, focusing on R&D and production in the field of small batteries, insisting on taking science and technology as the forerunner, focusing on products and focusing on customers.
The company has established a technology center and a post-doctoral scientific research station, and has established a number of new energy research centers in cooperation with national key universities and the Institute of Chinese Academy of Sciences. The scientific research and innovation mechanism is mature and complete. As a company with strong scientific and technological strength in the battery field in China, it will be committed to Users provide power products and services with brand-new technology and experience.
Today, the company's products have been sold to more than 60 countries and regions on five continents in the world, fully demonstrating the excellent quality of Chinese products and the strong charm of national enterprises to consumers.
Company Name: Shandong Huachuang Times Optoelectronics Technology Co., Ltd.
Representative: Edward Xu
Product/Service: Lithium Fluoro-carbon Battery , LR6 LR03 AAA Alkaline Battery , New Energy and Thermal Battery Materials , Photovoltaic Energy Storage Battery , Modular Ferrous Lithium Phosphate Battery , Polymer Lithium ion Battery of Electric Car
Capital (Million US $): 5000000RMB
Year Established: 2020
Total Annual Sales Volume (Million US $): US$10 Million - US$50 Million
Export Percentage: 31% - 40%
Total Annual Purchase Volume (Million US $): Below US$1 Million
No. of Production Lines: 50
No. of R&D Staff: Above 100 People
No. of QC Staff: 5 -10 People
OEM Services Provided: yes
Factory Size (Sq.meters): 30,000-50,000 square meters
Factory Location: Zichuan new material Park (photoelectric Park), Zibo City, Shandong Province, Zibo, Shandong
Contact Person: Mr. Rees
Tel: +86-0533-5680963